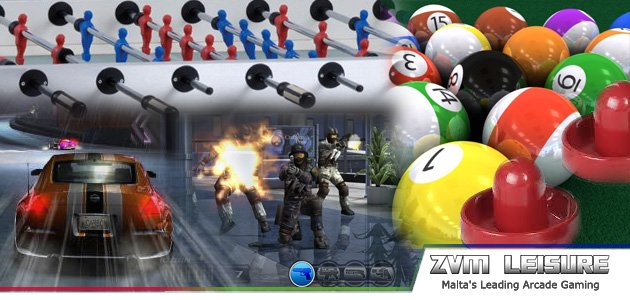 Latest News
ZVM Leisure introduces Jakar Kickboxer strength machines in Malta.

ZVM Leisure has launched a brand new Jakar Kickboxer strength machine at the new Embassy Games Room in Valletta. Jakar are the current leaders when it comes to production of different types of strength machines.
Read more ››
22 May 2014
ZVM Leisure introduces WIK air hockey tables in Malta.

ZVM Leisure has started operating air hockey tables from WIK brand by introducing the STORM model at the Eden Super Bowl in the heart of Paceville. WIK air hockeys have unique shapes of the top cover that makes the game fast and amusing. Their attractive designs and innovative shapes make them highly in demand.
Read more ››
1 March 2014
ZVM Leisure contributed 5 Supreme pool tables to be used at European Pool Championships at the Dolmen Hotel.

ZVM Leisure has furnished 5 Supreme Pool Tables to the Malta Pool Association to host the European Championships held between the 16th and 21th Feb 2014 at The Dolmen Hotel in St Paul's Bay.
16 February 2014
ZVM Leisure starts distributing locally change machines from Comestero Group.

ZVM Leisure introduced 4 models of change machines from Comestero Group to the local market, ideal to use in places where automatic change from higher denominations is required. These machines will return their value for money in a short time.
Read more ››
15 January 2014
ZVM Leisure opens a new games room in Valletta.

ZVM Leisure expands operations in Malta by inaugurating a new games room at the Embassy shopping complex in Valletta on Level 2. The games room is open every day including public holidays from 10:00am till 9:30pm. The new games room is equipped with pool tables, soccer tables, an air hockey table, a boxing machine, kiddie rides, video game machines and a Comestero Group change machine.
1 December 2013
ZVM Leisure imports the first Dragon boxing machine from Kalkomat in Malta.

ZVM Leisure has introduced the first Dragon boxing machine from Kalkomat and is now operating the most innovative boxing machine in a prime area of Paceville. The Dragon boxing machine is one of a kind with several special effects including disco lights, smoke, sound and lighting effects.
Read more ››
1 July 2013
ZVM Leisure provides Ian's Sports Bar with 5 new Supreme pool tables.

ZVM Leisure has furnished 5 new Supreme Pool Tables to Ian's Sports Bar, a club member of the Malta Pool Association. Ian's Sports Bar is situated in Mdina Road, Zebbug and is open daily from 6:30pm till late. For more information about Supreme Pool tables please click below.
Read more ››
15 June 2013